Island hat derzeit die geringsten Coronavirus-Infektionen pro 100.000 Einwohner aller Länder, die von der Statistik des European Centre for Disease Prevention and Control (ECDC) erfasst werden. Auf 100.000 Einwohner kommen in Island in den letzten zwei Wochen insgesamt 57,7 Coronavirus-Infektionen. Seit Mitte November ist Island kein Risikoland mehr. Wer jetzt nach Island reisen möchte, muss jedoch noch für 5 oder 6 Tage in Quarantäne und sich doppelt testen lassen. Die Test sind ab jetzt kostenfrei. Ausserdem können Genesene ab 10. Dezember ein Attest an der Grenze vorlegen und müssen sich auch keinem Test mehr unterziehen. Sie stellen  kein Ansteckungsrisiko mehr dar nach Ansicht der Gesundheitsbehörden.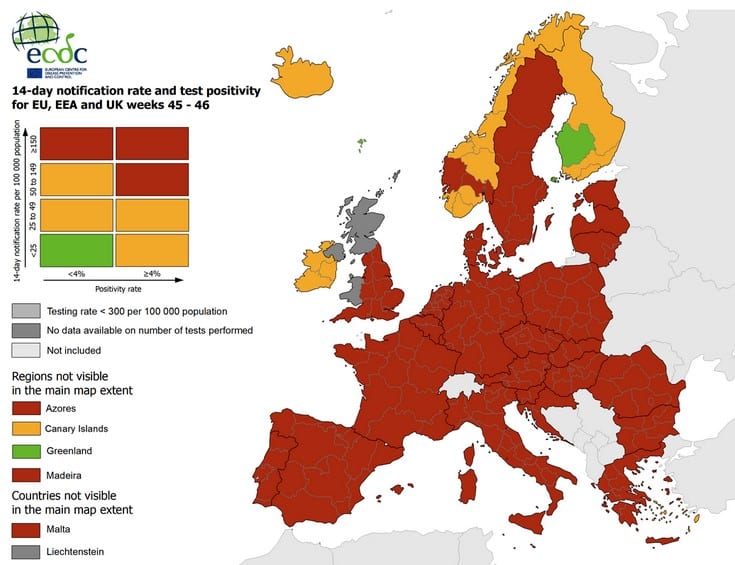 Combined indicator: 14-day notification rate, testing rate and test positivity, updated 19 November 2020 (European Centre for Disease Prevention and Control, ECDC).
Die höchste Inzidenz ist in Luxemburg oder 1.065,7 Infektionen pro 100.000 Einwohner. Ohne Island steht Finnland mit 69,4 Infektionen pro 100.000 Einwohner in den nordischen Ländern sehr gut da. In Norwegen sind es 154,1 und in Dänemark 265,3. Schweden hat mit 577,3 die auffälligste Neuinzidenz in den nordischen Ländern.
In den letzten 24 Stunden wurden nur fünf Neuinfektionen in Island diagnostiziert und alle fünf haben sich bereits in Quarantäne befunden, was immer ein gutes Zeichen ist. Nach einigen schwierigen Wochen können wir nun etwas optimistischer der Weihnachtszeit entgegenblicken. Hier nochmal ein Überblick über den Verlauf in der letzten Zeit: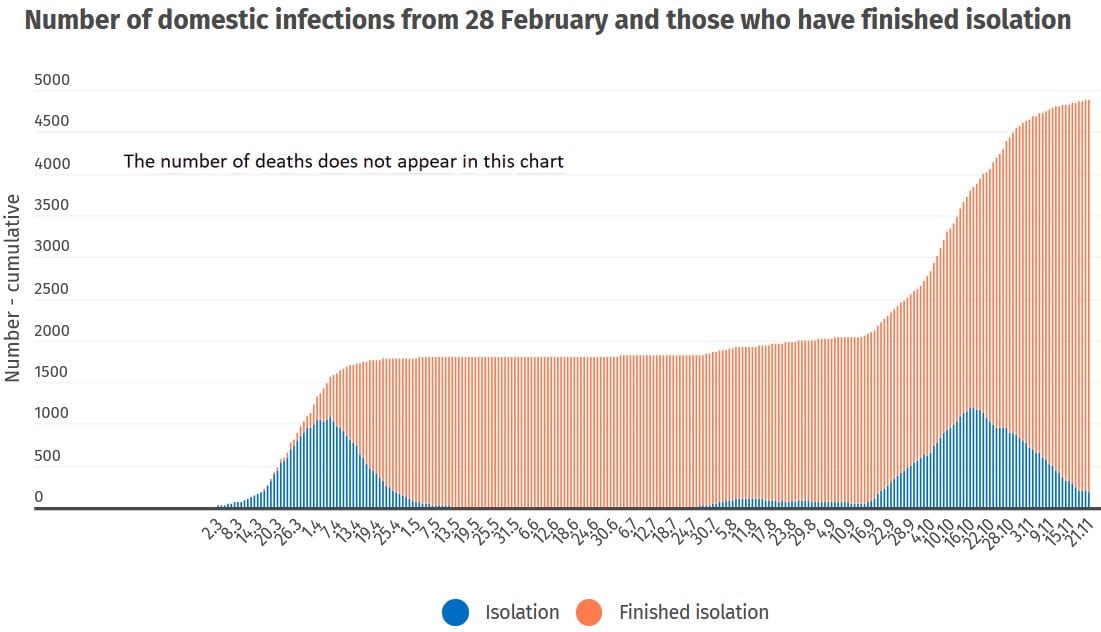 Infektionen in Island (blau) und Personen in Quarantäne (orange). Quelle: https://www.covid.is/data
Wer sich dafür entscheidet jetzt nach Island zu reisen muss etwas Flexibilität mitbringen, da sich die Flugverbindungen kurzfristig ändern können. Fakt ist aber, dass die Fluggesellschaften ihre Passagiere nach Island und wieder nach Hause befördern, auch wenn sich der Direktflug in einen Gabelflug ändert. Zudem muss die fünf- bis sechstägige Quarantänezeit mit eingerechnet werden, es sei denn, Sie haben bereits Covid-19 gehabt und können ein ärztliches Attest an der Grenze vorlegen.
Für alle die die Quarantäne mitmachen, haben wir Ideen erarbeitet, wie man die Zeit trotzdem erlebnisreich und stimmungsvoll in schönen Unterkünften mit weitem Ausblick in die Landschaft verbringen kann. Wer später kommen möchte, findet hier Gute Gründe für eine Islandreise nach Corona.
Quellen:
Vésteinn Örn Pétursson, Ís­land með eina lægstu smit­tíðni í Evrópu, Vísir.is, 22.11.2020.
Dagmar Trodler, COVID-19: Genesene können ab 10. Dezember Attest an der Grenze vorlegen, Iceland Review, 21.11.2020.