Northern Lights Super Jeep Adventure - 4 days
Details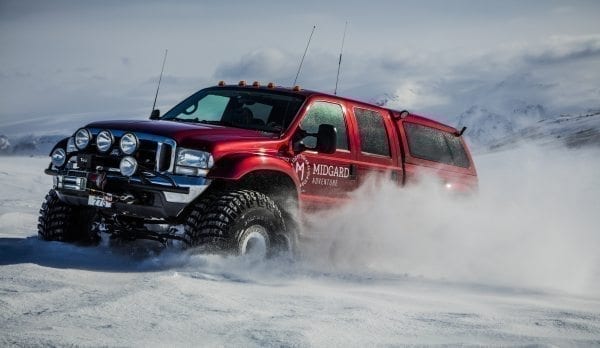 Experience a 4 days super jeep adventure to the breathtaking sites of the south coast and the wild highlands operated by our partners from Midgard Adventures.
✓ Venture into Þórsmörk, the Valley of the Thunder God Thor
✓ Witness the magical Northern lights while chilling in a roof top hot tub.
✓ Discover amazing south coast sites such as Skógafoss and Seljalandsfoss waterfalls, Reynisfjara the black sand beach and Dyrhólaey island.
✓ Ice-walk at Sólheimajökull Glacier.
✓ Accommodate at our newly opened Midgard Base Camp filled with local people and good vibes. Comfortable beds, delicious food from Midgard Base Camp restaurant, locally brewed beer at the bar, fuzzball table and not to mention the rooftop sauna and hot tub where to look for the Northern lights.
| | |
| --- | --- |
| WEAR | Comfortable clothing, hiking shoes and warm clothes according to this area's weather forecast and activities in our day to day description. Upon booking you will receive a detailed packing list. |
| GROUP SIZE | Min 4, max. 16 people. If you are fewer or more people please contact us. The size can be adjusted by request. |
| FOR WHOM? | Fits individuals, group of friends, couples and families with grown up kids. Can be adjusted to company groups that would like to add some work in to it. Few places are as inspiring for new ideas as the ones visited on this tour. |
| TRANSPORTATION | Mini-bus and super jeeps. |
---
Highlights
Super jeep tour
South coast sites
Aurora borealis
Accommodation included
---
Dates
Confirmed dates
November 30- December 3
December 14-17
December 23-26 (199.000 ISK)
December 28-31
January 11-14
January 25-28
February 8-11
February 22-25
March 8-11
March 22-25
April 5-8
April 5-8
April 19-22
May 3-6
May 17-20
Other dates available by request.
---
Price in EUR
per person: € 1.390,-   or  167.000,- ISK
---
Service Included
Reykjavík/airport pick up on day 1 and drop off in Reykjavík/airport on day 4
Accommodation in bunk beds (6 bed dorm) at Midgard Base Camp. Upgrade is possible. See information below.
Guided tours all days
Ice walk
Northern light evening tour given good forecast
All meals (except breakfast on arrival day and dinner on departure day)
Not included:
Up on request:
Upgrade of accommodation. 

Please do not hesitate to be in touch if you want an upgrade of your accommodation. To upgrade to a private double room with private bathroom the price is 18.150 ISK per person for all the nights (based on two people deciding on this). To upgrade to a family room for four people with shared bathroom the price is 13.325 ISK per person (based on four people deciding on this).
Extension of trip
Private trip
Itinerary
Airport - Reykjanes peninsula to Midgard Basecamp
At the airport you will be welcomed by a member of the Midgard family who takes you through the Reykjanes peninsula to the south where you will be spending the next few days. Depending on your time of arrival we will stop by at few places to give you a feeling of what Iceland is all about, the landscape and the geothermal power underneath. If there is a clear sky and the Northern Lights forecast is promising for the neighborhood we will pack our bags and head on searching for the Lights. This applies for all the nights if the prognosis is good. For those not willing to take on more travel during the nights you can put on your bathing suits, place yourself in the hot tub on the rooftop at Midgard Base Camp and wait for the Lights to arrive. Accommodation for the night at Midgard Base Camp.  
The South Coast and an introduction to the glacial world
After a nice breakfast at Midgard Base Camp we head on towards the south coast to check out the sights, Skógafoss and Seljalandsfoss waterfalls, Reynisfjara the black sand beach and Dyrhólaey island. On the way we also visit the Sólheimajökull outlet glacier to witness the ongoing changes on the glaciers. To give you an even better introduction of the glacier world we fasten our crampons and take on a short hike on the glacier. As we do not like to stress we say that if time allows we might head all the way to Vik but will adjust to daylight and weather. When back at Midgard Base Camp in the afternoon we would recommend for everyone to visit the local swimming pool. Sitting in the pool after an active day is very rewarding. The pool area consists of an outdoor pool filled with warm water, hot tubs and a sauna. Visiting the outdoor swimming pools is quite Icelandic. For those that are not interested in visiting the swimming pool you can enjoy the roof hot tub and sauna at Midgard Base Camp and wait for the Northern Lights. Accommodation for the night at Midgard Base Camp.
Þórsmörk or Eyjafjallajökull super jeep tour
Again after a nice breakfast at Midgard Base Camp we tie our shoelaces and head on to more adventures. This day we spend in the surroundings of the volcano Eyjafjallajökull, the one that erupted in 2010 and the Þórsmörk area. Þórsmörk was made in eruptions underneath the glaciers that makes its wonderful landscape. We stop by at several places on the way among them the outlet glacier Gígjökull where the eruption in 2010 first presented itself. When in Þórsmörk we take on shorter hikes depending on the group's energy and will. This night there is still a possibility to visit the swimming pool or the newly open Lava Center in 10 minutes walking distance from Midgard Base Camp. Accommodation again in Midgard Base Camp
Heading back to civilization
We use this day to visit some nice places and are going to allow ourselves to say that we will leave this day open! We would probably most like to take you on to a hike to Reykjadalur, the geothermal area and for a warm bath but if weather does not allow we will just do something else which might include the Golden Circle, the Þjórsárdalur walley or more. The weather will decide on this. Whatever will be the choice we promise a nice day. At the end of this day we take you to the airport or Reykjavík. Midgard staff are of course more than willing to help you book your accommodation in Reykjavík or help you extend your trip elsewhere.