On Nature´s Trail | Bestseller
Details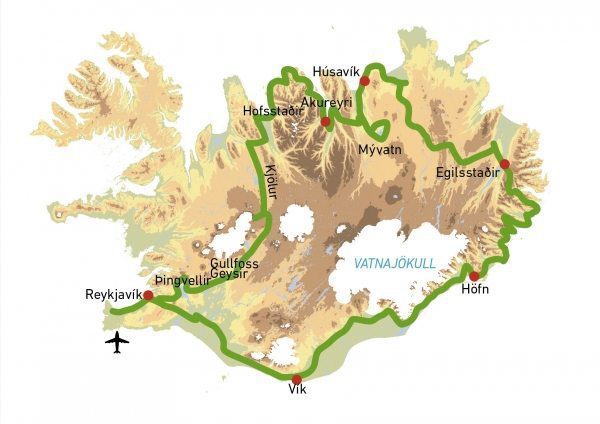 On Nature´s Trail | 10 day guided trip around Iceland
An enticing round trip providing a unique experience of Icelandic nature, culture  and farm history. On this 10 day holiday you will stay in hotels and guesthouses  on route through the contrasting landscape of the South, the East, the North and the rugged interior of Iceland. The program includes the highlights of Iceland´s natural environment: volcanos, glaciers, powerful rivers and waterfalls, all three National Parks, black sands, fjords, a glacier lagoon filled with icebergs, green meadows and hot springs.
---
Highlights
10 days – Hotels and farm guesthouses
Easy to moderate hikes, 2-6 hours duration
Hiking in three National Parks
Nature and cultural highlights
The cape Ingólfshöfði
The glacial lagoon Breiðamerkurlón
Small groups, min 10, max 24
---
Price in EUR
| | |
| --- | --- |
| Price without flight | Price in EUR |
| Price pro Person without flight | € 2.990,- |
| Sgl room supplement | € 770,- |
Dates
| | | |
| --- | --- | --- |
| Arrival | Departure | Availability |
| 17. Juli 2018 | 26. Juli 2018 | |
| | | |
---
Service Included
9 nights at hotels and farm guesthouses with shower/WC
9 x breakfast *
7 three-course dinners, with the pick of Icelandic cuisine. Please note that in Reykjavík only breakfast is included
Warm drinks (coffee, tea and soups) at lunch breaks **
Coach, exclusive for the group, and airport transfers
Qualified Icelandic English speaking guide
Admissions:
The Herring Museum
Grenjaðastaðir turf houses
Eyjafjallajökull Visitor Center
Mineral Collection at Stöðvarfjörður
Minimum 10 people, maximum 24 people
Not included:
Whale Watching tour in Húsavík, 82 € per person
Entrance fee to the Nature Baths by Mývatn, prices on request
Boat tour on the glacier lagoon Jökulsárlón, from 5.500 ISK per person
Glacier Walk on Svínafellsjökull, from 8.790 ISK per person
*Those leaving the country on an early morning flight, can request a Grab & Go breakfast package.
** Additionally we make frequent stops at grocery stores for personal purchases (bread, spreads, etc
Itinerary
Arrival in Iceland
Flight to Keflavík. Transfer to the centrally located Hotel Reykjavík Natura with a one night stay. 45 minute driving time from Keflavik to Reykjavik.
National Park Þingvellir & the Hot Springs at Geysir
Meet up with your tour guide. The day starts with a sightseeing tour of the vibrant city of Reykjavik. You will visit the panorama platform Perlan, the town hall and the church Hallgrímskirkja. We then drive to the high-temperature geothermal area of Nesjavellir, around Lake Þingvallavatn and arrive at the National Park Þingvellir. A walk through Almannagjá canyon places you between the tectonic plates of Europe and America and takes you back in time to the medieval parliament site of the the Saga period (3 hrs). From Þingvellir the excursion continues over the mountainous terrain of Lyngdalsheiði to the hot springs in Haukadalur. Walk among the steaming, spurting hot springs and see Geysir, the grandfather of all geysers and the active spring source Strokkur. 1 night in a farmhouse near Gullfoss waterfall.
Waterfall Gullfoss & the Highlands
Start the day with a hike along the Hvítá gorge and a drive to the beautiful waterfall Gullfoss, the "Golden waterfall" (1-2 hrs walk). The journey takes us northward through Iceland´s rugged interior over the highland route Kjölur between the glaciers Hofsjökull and Langjökull. Halfway through this wilderness we make a short stop at the geothermal area of Hveravellir where we take a walk among the hot springs and have an opportunity to bathe in a natural warm pool. We next head to the valley of Skagafjörður on the North coast. 1 night in the horse region of Skagarfjörður.
The Tröllaskagi Peninsula, Akureyri Town & Goðafoss Waterfall
We drive around the massive mountains of Tröllaskagi, the peninsula of the Trolls, to the center of the former herring town Siglufjörður. Here, in a lively museum, we learn everything about this enormously important economic activity of Iceland in the last century. We continue along the picturesque Eyjafjörður fjord to the capital of Northern Iceland, Akureyri. There we take a guided tour of the city with a visit to the botanical garden. On the way to nature paradise Lake Mývatn, we make a short stop at Goðafoss, the "Waterfall of the Gods". 2 nights in the Mývatn area.
.
Mývatn & active volcanos
We start the day with a visit to the old turf houses in the local museum Grenjaðarstaðir. We continue to Lake Mývatn with easy walks along the lake and the pseudocrater in Skútustaðir with ornithological observations (1 hr). Afterwards we walk through the "dark castles" Dimmuborgir with outlandish lave formations and take another easy hike along the bubbling mud springs of Námaskarð. On the way back to the hotel you have the opportunity to take a bath in a warm lagoon with a view over Lake Mývatn.
Whale Watching & National Park Jökulsárgljúfur
The day starts with a drive along the North coast to the picturesque fishing village Húsavík. Here you will have the opportunity to do a 3-hour whale watching tour in an oak boat. Those who are less keen on the boat trip should look at the sights of Húsavík; the old harbor, the nature museum or the whale museum. We continue around Tjörnes peninsula to the National Park Jökulsárgljúfur where we walk in the great canyon of the glacial river, Jökulsá á Fjöllum and in Hljóðaklettar, the "Sounding Cliffs", famous for their assorted basalt column rock formations. We also take a walk in the horseshoe-shaped gorge Ásbyrgi. We drive to the mightiest waterfall in Europe, Dettifoss (1-2 hrs walk). From there we drive East through the barren glacial valley Jökuldalur to our accommodation. 1 night in a guesthouse near Egilsstaðir town.Fahrt in das malerische Fischerdorf Húsavík. Hier haben Sie die Gelegenheit eine 3-stündige Walbeobachtungsfahrt mit einem Eichenboot zu unternehmen. Diejenigen die weniger Lust auf die Bootsfahrt haben, sollten sich die Sehenswürdigkeiten von Húsavík ansehen; den alten Hafen, das Naturkundemuseum oder das Walmuseum. Weiterfahrt um Tjörnes, die Halbinsel am Polarkreis,  in den Nationalpark Jökulsárgljúfur. Spaziergang in der hufeisenförmigen Schlucht Ásbyrgi. Weiterfahrt zum gewaltigsten Wasserfall Europas Dettifoss. Anschließend fahren wir weiter in den Osten durch das Gletschertal Jökulsárdalur zur Unterkunft. 1 ÜN im Gästehaus bei Egilsstaðir.
The Minerals of the East Fjords & Vatnajökull Glacier
Drive along the sheer coastline of the Eastern fjords, known for their rocks and minerals. A visit to the largest private mineral collection in Iceland in fishing village Stöðvarfjörður gives you a unique opportunity to view those beautiful minerals in detail. We continue through the varied fjord landscape among imposing, perpendicular rock faces. In the former Danish trading center Djúpivogur we take a tour of the harbor. You will experience the surf on a leisurely coastal walk and at the same time observe different seabird species. We drive alongside Europe´s largest glacier, Vatnajökull, to the cool blue shades of the Breiðamerkurlón glacier lagoon. 1 night in Smyrlabjörg farmhouse near Vatnajökull glacier.
Glacier Lagoon with Icebergs & National Park Skaftafell
Drive to Jökulsárlón glacier lagoon, where you have the opportunity to take a boat trip among the icebergs. Continuing along the glacier, we come to the settlement Hof, where we visit an old turf church. In the National Park Skaftafell, we take a hike to the waterfall Svartifoss, famous for its basalt column rock formations.From there you will have a magnificent view of Iceland´s highest mountain, Öræfajökull. In this green oasis, surrounded by glaciers and black sand deserts, you will experience a diverse plant world before going directly to the rugged glacier tongue of Svínafellsjökull at the foot of Öræfajökull. For those interested, we can organize a guided glacier walk on glacier Svínafellsjökull (2 hrs.) We continue through the "fire lava" Eldhraun covered with moss, via glacial rivers and sand areas to Iceland´s southernmost town, Vík. 1 night in Vík.
The South Coast & Puffins at Bird Rock Reynisfjall
At Vík we take an easy hike and marvel at the surf on the rock Reynisdrangar at one of the most beautiful coasts in the world. There you will encounter puffins at their nesting sites. At the volcano Eyjafjallajökull we will visit a museum featuring the devastating eruption in 2010. On the way to Reykjavík we will reach the beautiful waterfalls, Skógafoss and Seljalandsfoss. 1 night at Icelandair Hotel Reykjavík Natura.
Reykjavík
Transfer to the airport and return flight.
Preparing your Trip
Preparing your Trip
---
Reisezeit
Wer v.a. das vielfältige Vogelleben oder die hellen Sommernächte erleben möchte, für den bietet sich der Frühsommer (Mitte Mai – Ende Juli) an. Der bei vielen Reisenden beliebte Papageitaucher verlässt Island Anfang bis Mitte August. Wenn Ihr Interesse eher den beeindruckenden Nordlichtern gilt, empfehlen wir eine spätere Reisezeit: Ab Ende August haben Sie die Chance, Zeuge der bizarren Farbformationen am Nachthimmel zu werden. Die Hochlandpisten sind ab ca. Mitte Juni und bis Ende September befahrbar. Nähere Informationen finden Sie auf der Homepage des isländischen Straßenverkehrsdienstes.
---
Reisedokumente
Staatsbürger aus EU-Ländern, dem Schengen-Gebiet und der Schweiz benötigen zur Einreise einen gültigen, von der isländischen Regierung anerkannten Personalausweis oder Reisepass. Staatsbürger anderer Länder wenden sich bitte an die entsprechenden Botschaften zwecks Visa-Informationen.
Weitere Informationen erhalten Sie bei der isländischen Botschaft in Berlin, Rauchstraße 1, 10787 Berlin –
Tel.: +49 (0)30 50 50 40 00, http://www.botschaft-island.de.
---
Führerschein
Der deutsche /schweizerische / österreichische Führerschein ist in Island gültig.
---
Gesundheitshinweise
Sie benötigen für Ihre Islandreise keine Impfungen. Wir empfehlen, dass Sie Ihre Europäische Krankenversicherungskarte mit auf Ihre Reise nehmen. Diese Karte ist bei Ihrer Krankenkasse erhältlich.
---
Notfälle
Die allgemein gültige Notrufnummer (24-Std.-Service) in Island ist 112.
Gesundheitszentren und/oder Krankenhäuser gibt es in allen größeren Gemeinden Islands.
Beim Polizeirevier in Reykjavík können Sie während der Bürozeiten Auskunft bekommen: Tel. +354 569 9020.
---
Währung/Geldwechsel
Die isländische Währungseinheit ist die "króna" (= Krone). Alle isländischen Banken halten Devisen bereit und sind in der Regel Mo.–Fr. von 9.15–16.00 Uhr geöffnet. Am günstigsten ist es, Geld von Bankautomaten mit Ihrer EC-Karte oder Ihrer Kreditkarte abzuheben. Geldautomaten finden Sie in allen Ortschaften und an Flughäfen. Kreditkarten und EC-Karten werden in allen Geschäften akzeptiert.
---
Klima
Dank des Golfstromes erfreut sich Island eines gemäßigt frischen Meeresklimas mit kühlen Sommern und verhältnismäßig milden Wintern. Das Wetter ist wechselhaft, weshalb empfohlen wird, sich auf jede Wetterart einzustellen. Weitere Informationen über das Wetter in Island finden Sie beim Meteorologischen Amt.
Zeit In Island gilt ganzjährig die Greenwichzeit (GMT), d. h. im Sommer ist es in Island 2 Stunden früher als in Deutschland, im Winter 1 Stunde.
---
Kleidung und Ausrüstung
In Island hat sich die Zwiebelmethode bewährt, d.h. Sie sollten sich mit T-Shirt, Pullover, warmen Hosen und einer leichten wind- und wasserfesten Regenjacke ausstatten. Außerdem sind für Wanderungen stabile, wasserdichte (Goretex) Wanderschuhe ganz wichtig – diese sollten auch Profilsohle haben. Bitte nicht kurz vorher kaufen, weil man sich sonst beim Einlaufen Blasen holt. Wir empfehlen auch die Mitnahme eines Fernglases. Bitte Badeanzug und Sonnenbrille nicht vergessen! Nota bene bei Winterreisen allgemeine warme Winterkleidung und festes Schuwerk, da wir kleinere Wanderungen im Schnee unternehmen werden.
---
Schwimmbäder
Isländer lieben Freibäder. Man trifft sich dort und plauscht über Gott und die Welt. Jung und Alt gehen diesem Volkssport nach und Sie sollten es sich nicht nehmen lassen, auch daran teilzunehmen. Besuchen Sie doch mal einen "heißen Topf"! Wenn es mehrere davon gibt, steht meist auch die Temperatur dran. Beginnen Sie mit dem kühleren und steigern Sie dann die Temperatur.
---
Elektrizität
Elektrische Spannung in Island beträgt, wie in Kontinentaleuropa, 230 V, 50 HZ AC und die Stecker sind entsprechend.
---
Telefonieren
Direktdurchwahl innerhalb Islands ist überall möglich. Die Vorwahl für Island bei Ferngesprächen aus dem Ausland und ausländischen Handys lautet 00354 + die 7-stellige Anschlussnummer.
Für Auslandsgespräche wählen Sie 00 und die entsprechende Landesvorwahlnummer, dann Ortsvorwahl und Teilnehmernummer Ihres gewünschten Gesprächspartners.
Aus Sicherheitsgründen empfehlen wir das Mitnehmen eines Mobiltelefons. Um Kosten zu sparen, können Sie im Duty-Free-Geschäft am Flughafen oder an jeder Tankstelle eine Prepaid-Karte mit isländischer Telefonnummer günstig kaufen.
---
Speisen und Getränke
Die isländische Küche bietet viele kulinarische Köstlichkeiten, wie z. B. frischen Fisch, Lamm und Spezialitäten wie die Milchspeise Skyr. Auch Vegetarier kommen hier auf Ihre Kosten. Bier, Wein und Spirituosen dürfen ausschließlich in staatlichen Monopolgeschäften (isl. Vínbúð) verkauft werden und sind daher nicht in den normalen Lebensmittelgeschäften erhältlich. Obwohl Bier erst seit 1989 wieder gebraut werden darf, bieten isländische Brauereien inzwischen eine reiche Auswahl des beliebten Gerstensafts an.
---
Trinkgeld
Im Endpreis sind in Island grundsätzlich Bedienung und MwSt. enthalten.
---
Geschäftszeiten
Generelle Öffnungszeiten im Juni, Juli und August sind von 9–18 Uhr. Einige Supermärkte haben inzwischen rund um die Uhr sowie an Wochenenden geöffnet.
---
Ankunft in den Unterkünften
Bei einer späten Ankunft nach 20 Uhr empfehlen wir Ihnen, Ihre vorgebuchte Unterkunft anzurufen und Bescheid zu geben.
Bitte beachten Sie, dass wir bei kleineren Gruppen, bis 15 Teilnehmer, möglicherweise einen Driver-Guide einsetzen.
Hotels
Eyvindará
Diese familiengeführte Gästehaus liegt sehr idyllisch im Wald unweit von Egilstaðir. Das Frühstück wird Ihnen jeden Morgen serviert. Ein Getränk erhalten Sie an der Bar und ein Abendessen (meist Buffet) können Sie im Restaurant von Juni bis August genießen. Von Eyvindará aus ist es nur ein Katzensprung in die Hauptstadt Ostislands, in der Sie einkaufen, essen oder schwimmen gehen können. Wer sich gerne bewegt, für den bietet sich eine abendliche Wanderung im Waldgebiet Hallormsstaðir oder zu den hübschen Wasserfällen Litlanesfoss und Hengifoss an.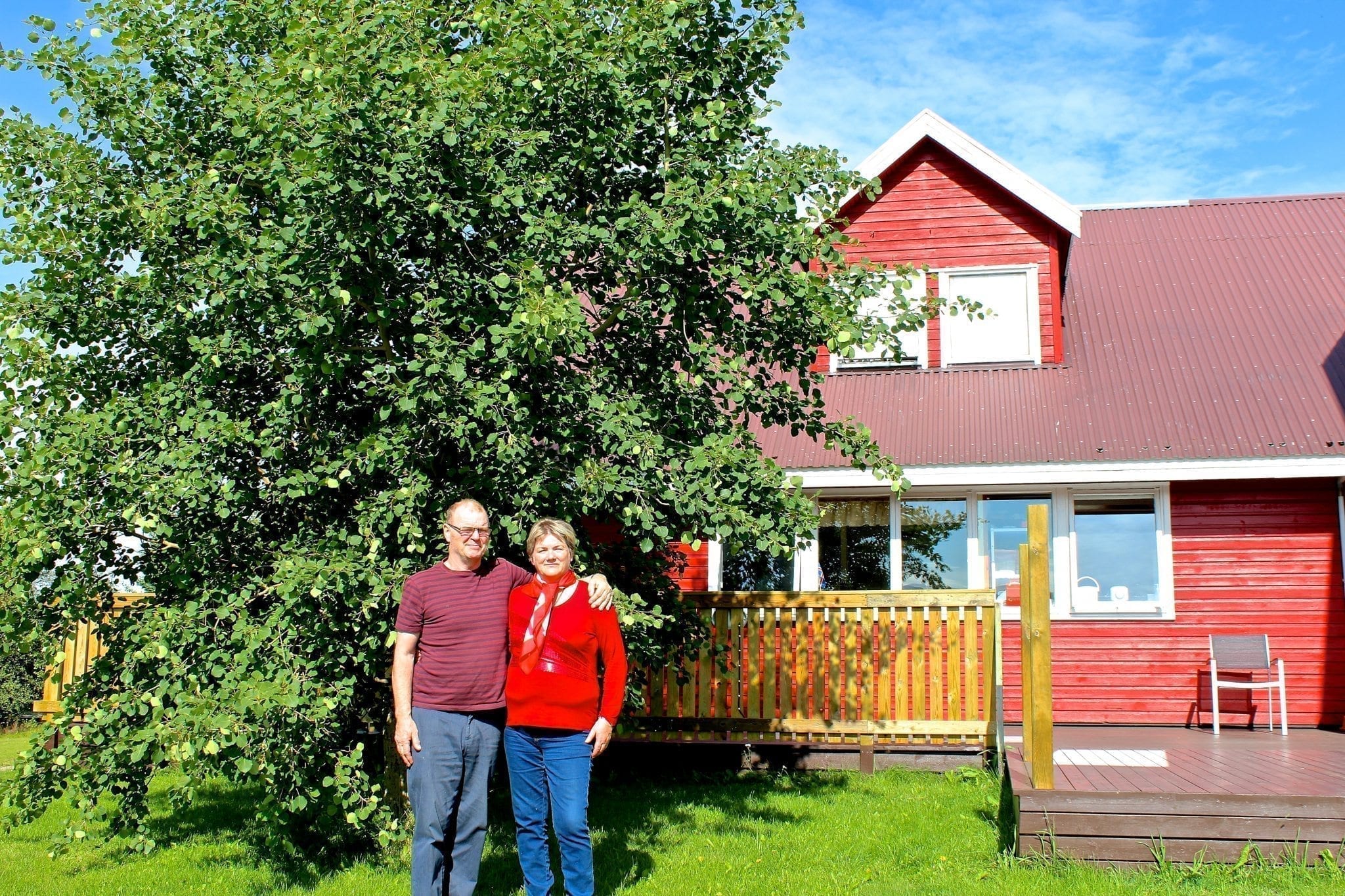 ---
Narfastaðir
Der ehemalige Bauernhof Narfastaðir liegt im Reykjadalur-Tal ca. 20 km westlich vom See Mývatn nahe der Ortschaft Laugar. Das Hauptgebäude war einst ein Schafstall und eine Scheune welche in elegante und gemütliche Unterkünfte umgewandelt wurden. Narfastaðir bietet Feinschmeckern ein empfehlenswertes Abendbuffet sowie allen Gästen kostenlosen Internetzugang. Durch seine Lage zwischen See Mývatn und dem Städtchen Húsavík ist Narfastaðir ein idealer Ausgangspunkt für die Sehenswürdigkeiten des Nordens. Sie haben auch einen Hotpot am Hotel, eine Bar und Zugang zu gemütlichen Aufenthaltsräumen im Hauptgebäude. Hier können Sie sich mit einem Tee oder Kaffee am Abend entspannen.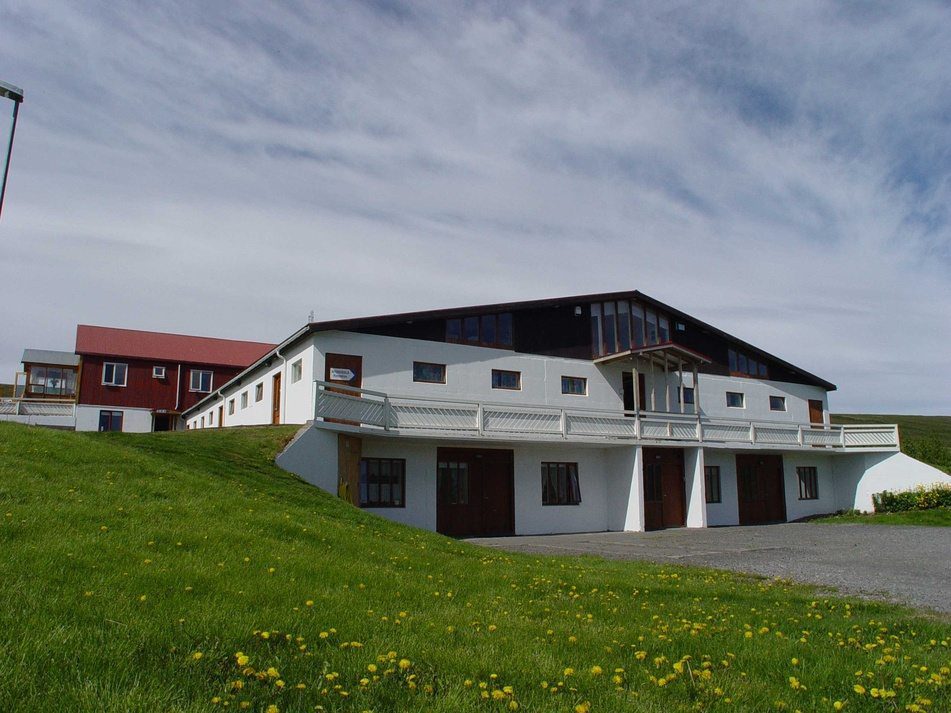 ---