Northern Lights in the Westfjords – Enjoy Icelandic Hospitality!
Details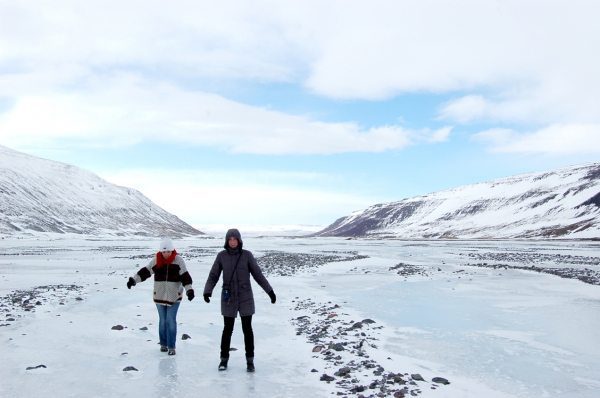 In co-operation with our partners at Country Hotel Heydalur, we are offering an 7-day winter adventure and northern lights experience. This tour leads you to the wild and unspoiled West Fjords of Iceland, just 80 km south of the Arctic Circle to your accommodation Heydalur. In the beautiful valley at the end of the Mjóifjörður Fjord, you will be able to relax in a peaceful environment aside the busier routes and enjoy the personal service as well as the family atmosphere. Your hostess Stella will take good care of you and prepare delicious local food three times a day. You will get into touch with the natives of this fascinating region and learn how people have coped with the harsh environment in past and present through interesting exhibitions. Several winter activities that are typical for the region are offered, all in small groups and depending on the weather, just as cross-country skiing, ice fishing and a guided tour to the town of Isafjörður. With a little luck, watch nature´s own show in green and red unfold above you while you soak in the natural thermal pool. After your stay in the countryside of the Northwest, you will be brought safely to the northernmost capital in the world: Reykjavík.
Participants: 2 – 16
Period:  September – April
English Guidance
---
Highlights
Northern Lights
West Fjords of Iceland
Hot Springs
Winter activities
The Capital Reykjavik
---
Price in EUR
Winter 2019/2020
Price without flight
Per Person in a double room plus 3 star hotel in Reykjavik: € 1.974,
Additional fee for single room with private facilities: € 120,-
Per Person in a double room plus 4 star hotel in Reykjavik: € 2.160,-
Additional fee for single room with private facilities: € 190,-
Price including flight:
Per Person from € 2.274,-*
*Kindly note that this price includes a basic flight rate. We will provide you with the up-to-date prices if you send us a request.
Extend your stay in Reykjavík!
One extra night per Person in a double room with private facilities and breakfast: € 95,-
One extra night per Person in a single room with private facilities and breakfast: € 146,-
Dates
| | | |
| --- | --- | --- |
| Arrival | Departure | Availability |
| 02.01.2020 | 08.01.2020 | yes |
| 29.01.2020 | 04.02.2020 | yes |
| 05.02.2020 | 11.02.2020 | yes |
| 12.02.2020 | 18.02.2020 | yes |
| 25.02.2020 | 02.03.2020 | yes |
| 11.03.2020 | 17.03.2020 | yes |
| 17.03.2020 | 23.03.2020 | yes |
---
Service Included
Transfer from International Airport Keflavík to Reykjavík and vice versa
Return transfer Reykjavik – Heydalur
2 nights in hotel in a double room with private facilities in Reykjavik, incl. breakfast
4 nights in country hotel Heydalur in a double room with private facilities
Full board for 4 nights (4 x breakfast, 4 x lunch, 4 x three-course dinner made of local ingredients)
Excursion to the thermal hot water well Deildartunguhver and to the lava waterfalls Hraunfossar and waterfall Barnafoss en route
Guided tour to Isafjörður, the capital of the West Fjords with an English-speaking local guide
Guided hiking trip with snow shoes or a cross-country skiing trip in the valley of Heydalur or to the waterfall Sængurfoss with an English-speaking local guide
Ice fishing tour if the weather allows it
Guided tour in the surroundings including an Icelandic sheep farm and a salt factory
Nightly Aurora Excursions
Free access to the thermal springs and sauna
Entrance fees Museum of Witchcraft, Arctic Fox Museum and Settlement Museum Borgarnes
Possibility for horse riding or kayaking (in September and October)
Englishspeaking, local Guide
small groups from 2 – 16 persons
The itinerary is quite flexible and can be customized. In Reykjavik you will have one day on your own for exploring the city and its surroundings at the end of the journey. We do not guarantee sightings of the Aurora Borealis. It is a natural phenomenon and depends on solar activity. A fairly clouldless sky is essential for successful viewing. 
Itinerary
Arrival
You arrive in Keflavík International Airport and take the comfortable FlyBus Shuttle to your accommodation in Reykjavík City. 1 night in Reykjavík.
Discovery of West Iceland
Today, you will meet your guide and fellow travelers after breakfast in your hotel, who will take you to the Northwest of Iceland. On the way, a visit to the Settlement Center in Borganes is included which provides an insight into the discovery and settlement of Iceland. Another point of interest is Deildartunguhver, the largest geothermal water spring by flow rate as well as the unusual, light-blue lava waterfalls Hraunfossar. The journey to the West Fjords is a 6 to 7 hours' drive through stunning landscapes with mountains and rivers. In Heydalur, a three-course dinner awaits you and a hot pool outdoors, hopefully under a moving aurora. 4 nights in Heydalur.
Excursion e.g. Ice fishing
After a substantial breakfast, you set out to a guided Ice fishing tour (depending on the weather either by jeep or snowmobile). After the return to Heydalur you will dine with the group and search for the northern lights with the experienced guide as all nights to come in Heydalur.
Excursion into the surroundings
Today, we explore the quaint surroundings of Heydalur and possibly even Drangjökull Glacier further north. The afternoon is at your own disposal. You can choose between several activities such as horde riding, kayaking (both offered in September/October), relaxing in the warm pool or a leisury walk. Of course, all activities depend on the weather and can be switched between days.
Ísafjörður, the Capital of the West Fjords
Your guide will take you and the small group to the town of Isafjörður and gives you an excellent insight into the life of Icelanders in this rough region. Several stops will be made e.g. at the library, church and in the old town. Among other viewpoints, a seal colony at Hvítanes will be visited. The Arctic Fox center of Suðavík is included as well where you learn about the only native terrestrial mammal in Iceland.
Journey back to Reykjavík
On the way back to Reykjavík you will be taken to the small town of Hólmavík and invited to explore the museum of Icelandic Sorcery & Witchcraft. Back in your hotel you are free to enjoy the evening as you please; take a stroll down Laugarvegur, the main shopping street, and dine in one of the many restaurants. 1 nights in Reykjavík.
Departure
Return Transfer to Keflavík Airport and flight back home
---
Extension – A day on your own in Reykjavík
Make more of you journey and add one or more days in Reykjavík
Enjoying the extra day in Reykjavík or joining an excursion into the wild winter countryside? The choice is yours. Take a walk downtown, visit Hallgrímskirkja church, the City Hall by lake Tjörnin and the Old Harbour where whale watching tours are offered even in the winter season.  We recommend the Pearl (Perlan) with the view platform, the National Museum and of course Harpa Concert Hall with its state-of-the-art acoustic technology and grandiose architecture. Do not miss the delicious food created by Icelandic gourmet chefs! There is a great choice between restaurants in the heart of Reykjavík and a greater choice between different meals such as catch-of-the-day, tender lamb meat or fresh vegetarian/vegan dishes. If you decide to spend the entire day in Reykjavík, we recommend the Reykjavík City Card which offers free entry to galleries, museums, swimming pools and city busses.
However, if you feel like exploring the surroundings, maybe you would like to join one of the adventurous tours leaving the city on a daily basis:
The Blue Lagoon with its milky blue waters
Horseback riding tours including transfer from Reykjavík, ideal also for beginners, several tours available from one hour and longer
The famous Golden Circle with UNESCO-World Heritage Site Þingvellir, the golden waterfall Gullfoss and Geysir Strokkur
South Coast with two fantastic waterfalls and glacier hike
More tours available on our website.
Hotels
Bauerngasthof Heydalur
Der Bauerngasthof Heydalur ist idyllisch im Fjord Mjóifjörður in den Westfjorden Islands. Heydalur ist eine besonders charmante Unterkunft, wunderschön gelegen und  mit dem Charme eines ehemaligen Landwirtbetriebs. Wir empfehlen das hervorragende Abendessen, sowie eines der vielen Freizeitangebote, die Heydalur bietet: Reiten, Kajak fahren, Angeln oder Relaxen im natürlichen Hot Pot. Von Heydalur aus gibt es zudem gute Wandermöglichkeiten.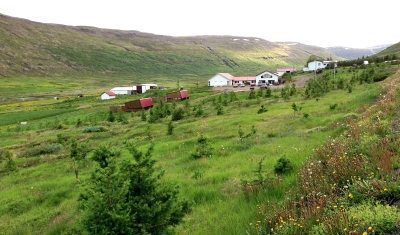 ---