Details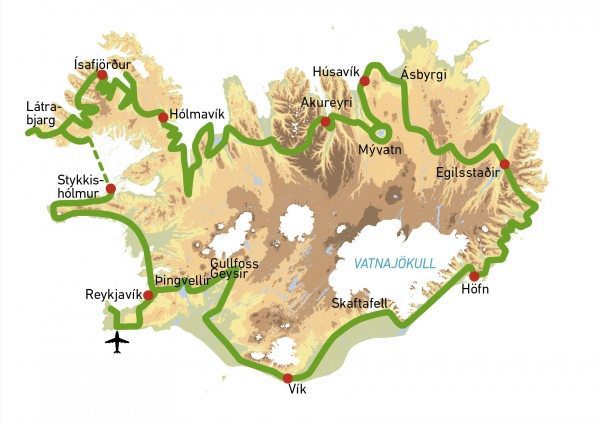 Extend your vacation and visit the rugged and wild West Fjords! This journey will take you around the whole island and leave you with extensive knowledge about the diversity and contrasts of Icelandic nature. You will mainly be driving on the ring road but also experience the remote West Fjords which represent a very special part of Iceland with their beauty and exceptionality. A ride across the wide fjord "Breiðafjordur" to Snæfellsnes peninsula round off this diverse journey. We will secure your accommodation and rental for a hassle free, enjoyable vacation.  Detailed route description and further information upon booking.
---
Highlights
A complete island round-trip
The beautiful South coast
Four National Parks with glaciers, volcanoes, hot-springs and waterfalls
The mountainous East Fjords
Mývatn nature pearl in the North
The wonderful Westfjord – travel off the beaten path
The largest bird cliff in Europe, Látrabjarg
Iceland´s secret: Strandir, remote and magic
Snæfellsnes peninsula: Iceland in miniature
---
Service Included
14 nights in three-star hotels or guesthouses, incl. breakfast
14 days rental car incl. unlimited mileage, CDW, Icelandic VAT and pick-up/drop-off at the airport in Keflavík
Detailed itinerary for each day
Location description of your accommodation
Road map 1:500 000
Iceland Road and Travel Guide
VAT and accommodation tax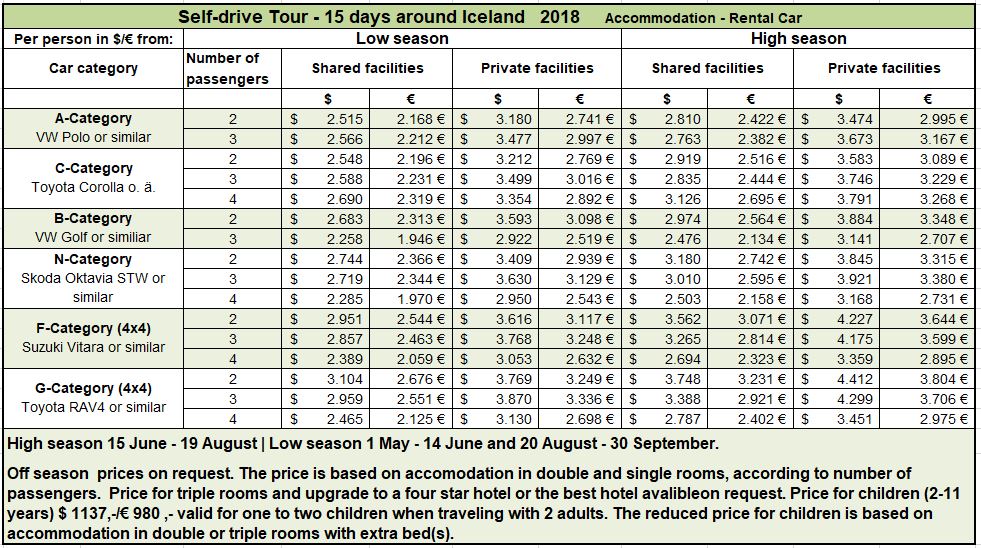 Not included:
Fuel, meals other than breakfast, admissionto museums/exhibitions, GPS system and tunnel toll (Hvalfjörður). Extra driver € 30.
Itinerary
Arrival
The rental car will be waiting upon arrival in Keflavík airport. On the way into the city you can take an optional detour to the Blue Lagoon Spa for a relaxing bath. 1 night in Reykjavík (ca. 30 miles / 50 km)
Reykjavík, National Park Þingvellir, hot springs at Geysir & Waterfall Gullfoss
Drive through the geothermal area of Nesjavellir, passing a geothermal power station, and further around Lake Þingvallavatn into the National Park Þingvellir which is on UNESCO's World Heritage List. Drive over the pass Lyngdalsheiði through the town of Laugarvatn to the hot spring area at Geysir and stunning waterfall Gullfoss. On the way to your accommodation you can stop by the historic bishop's residence of Skálholt. 1 night in or near the geothermal area of Flúðir (ca. 100 miles / 170 km)
The Local Heritage Museum in Skógar & the South Coast
Drive to the south coast and make sure to stop by the waterfalls Seljalandsfoss, where you have the opportunity to walk behind the waterfall. In Skógar, right by the waterfall Skógafoss, we recommend a visit to the local folk museum before driving further to your next stop at the bird cliff Dyhólarey (Please note that the bird cliff is closed during the nesting period, untill the end of june). We also recommend a short walk along the coast Reynisfjara. Through the black desert Mýrdalssandur and the lava field "Eldhraun" (the fire lava) you'll reach your accommodation in the area around Kirkjubæjarklaustur. 1 night (ca. 160 miles / 250 km)
Vatnajökull National Park
A drive through black sandy landscape will take you to Skaftafell, a part of Europe's biggest national park at the foot of the glacier Vatnajökull. We recommend the walk to the pretty waterfall Svartifoss, known for it's impressive basalt columns, before driving further along the glacier Öræfajökull with Iceland's highest summit, Hvannadalshnúkur. In Fagurhólsmýri you can take a tractor tour to the bird cliff of Ingólfshöfði (daily except on Sundays) before reaching the famous glacier lagoon, Jökulsárlón. There you can take a walk on the shore or enjoy an unforgettable boat trip between the icebergs. 1 night near Höfn (ca. 130 miles / 200 km)
The dramatic fjord landscape of the East
Start the day with a visit of the local folk museum or/and the glacier exposition in Höfn before driving through the jagged landscape of the East. We recommend a short stop at the old Danish trading place of Djúpivogur as well as a visit of the country's largest private mineral collection, owned by Mrs. Petra Sveinsdóttir in Stöðvarfjörður. Continue to the next fjord where and take the shortcut through the tunnel or drive further to the town of Fáskrúðsfjörður. There you will find an old station used by French fishermen and the island Skrúður with a huge colony of northern gannets. Driving further through the "beautiful valley" Fagridalur with its many waterfalls you'll eventually reach the capital of the East, Egilsstaðir. 1 night in or near the village Egilsstaðir or Jökulsárhlíð. (ca. 155 miles / 250 km)
Jökulsárgljúfur in Europe's biggest National Park
On your way through the desert landscape of Möðrudalsöræfi you should take the old ring road and visit the secluded café at Möðrudalur farm before reaching Jökulsárgljúfur in Europe's largest national park. In this area are some of the main attractions of Iceland, e.g. the powerful waterfall Dettifoss, the horseshoe-shaped lava canyon Ásbyrgi with the surrounding "echoing cliffs" of Hljóðaklettar. Continue the journey by driving around Tjörnes peninsula to the fishing village of Húsavík which is famous for its whale watching tours and museums besides nice restaurants on the harbour. 2 nights near Húsavík or Lake Mývatn (ca. 160 miles / 250 km)
Nature paradise Lake Mývatn
The area around Lake Mývatn has many things to offer for example the following walks; along the pseudocraters of Skútustaðir, through the lava labyrinth of Dimmuborgir, past the hot sulphur springs in Námaskarð or through the new lava from Krafla volcano. To end a good hiking day a trip to Mývatn's Nature Baths is perfect. (ca. 90 miles / 150 km)
Akureyri and Skagafjörður
On your way to the capital of North Iceland, Akureyri, you can stop by the waterfall Goðafoss. In the most charming town of Akureyri you should take a sightseeing tour including the botanical garden and the birth place of writer Jón "Nonni" Sveinsson. Drive over the mountain pass of Öxnadalsheiði and into the horse-breeding area of Skagafjörður, where the folk museum Glaumbær is well worth a visit. We also recommend Flugumýri where you can watch a horse show and learn about living conditions of the Icelandic farmers, before driving into the area of Viðidalur. 1 night in the area of Víðidalur (ca. 160 miles / 250 km)
Into the beautiful Westfjords
Today you'll start your journey into the remote Westfjords, one of Iceland's most beautiful yet almost undiscovered touristic regions. After an optional stop in the Seal Centre at Hvammstangi, you drive further to the village of Hólmavík, where you should visit the exhibition on Icelandic witchcraft and magic, before reaching the majestatic fjord Ísafjörðurdjúp via the high plateau Steingrímsfjarðarheiði. If your schedule is not too tight, you should drive around the Reykjanes peninsula and enjoy its beautiful geothermal spring area and an original swimming pool. Your accommodation for the day is located here or at the fjord Mjóifjörður. 1 night (ca. 130 miles / 200 km)
Ísafjörður
The road along the fjord Ísafjörðurdjúp takes you to Ísafjörður, capital of the Westfjords, where you can visit the local folk and fishery museum and take a guided boat trip to the island of Vigur in the early afternoon. Afterwards, a short detour to Bolungarvík and the mueseum Ósvör demonstrates the life of the regional fishermen in the past before you continue to the village of Þingeyri in the fjord Dýrafjörður. 1 night (ca. 130 miles / 200 km)
Waterfall Fjallfoss & the bird cliffs of Látrabjarg
The impressive mountain passages of the high plateau Hrafnseyraheiði leads to the magnificent waterfall Fjallfoss in the river Dynjandi. Continue towards Europe's western most point, Látrabjarg, a 14 km long bird cliff that is in places up to 450 m high, walk and enjoy the exceptionally tame puffins in front of a fantastic panorama. The impressive beach Rauðasandur is worth visting. 1 night in Patreksfjörður (ca. 130 miles / 200 km)
Breiðarfjörður bay & Snæfellsnes peninsula
Today you can either take the 3-hour-ferry from Brjánslækur over to Stykkishólmur on the Snæfellsnes peninsula or take the road along the coast of Breiðarfjörður bay. In both cases we recommend a short walk in the pretty fishing village of Stykkishólmur as well as visiting farmer Hildibrandur in Bjarnarhöfn, who has turned part of his home into a small private museum on the old Icelandic tradition of shark catching. Drive further until you reach your accommodation on the southern coast of the peninsula. 2 nights on Snæfellsnes peninsula (ca. 60 to 190 miles / 100 to 300 km)
Snæfellsjökull glacier
You start the day by visiting the old wooden chapel in Búðir and taking one of the most beautiful walks in Iceland, along the bird cliffs connecting the fishing villages of Arnarstapi and Hellnar. In Hellnar we especially recommend the sea food soup in the little restaurant by the harbour. After circling the notorious Snæfellsjökull glacier you can access it from Ólafsvík via the mountain passage Jökulháls. Those who wish can take a glacier tour on snow mobiles from here, before returning to your accommodation. (ca. 90 miles / 150 km.)
Reykjavík
Your drive south takes you through the beautiful area of Borgarfjörður, where you can stop by the saga centre in Reykholt and afterwards visit Europe's most powerful hot water spring in Deildartunguhver. We recommend you drive around the scenic Hvalfjörður fjord, but you can also take the faster way through the tunnel and spend more time in Reykjavík. Once you arrive in the Icelandic capital, take a sightseeing walk including the old harbour, church Hallgrímskirkja and visit "the Pearl" Perlan sight seeing platform on top of 5 hot water tanks, from whre you have a tremendous view all over the city. We also recommend a bird watching tour on the boat Lundi RE 20, departing from the old harbour downtown. In the evening, you can conclude your holiday in Iceland with a relaxing bath in one of Reykjavík's many swimming pools. 1 night in Reykjavík (ca. 100 to 130 miles / 160 to 210 km)
Departure
Drive to the airport in Keflavík to return the rental car before catching your flight back. (ca. 30 miles / 50 km) 
Preparing your Trip
Preparing your Trip
---
Travel season
Those who mainly want to experience the vibrant Icelandic bird life and endless summer nights, should plan their trip in the early summer (mid May – end of July). The puffins, popular with many tourists, leave Iceland in August. If you're mainly interested in the aurora borealis, you should choose a later date. You have a good chance of seeing these bizarre light formations from the end of August. The highland routes are normally open from mid June until the end of September. For further information see the homepage of the Icelandic Road Administration.
Travel documents
When traveling to Iceland, citizens of the European Union, countries that belong to the Schengen Agreement and Switzerland require a passport, valid at least three months beyond the intended stay. Citizens of other countries should contact an embassy of their respective country for further information on visas. Further information at the Icelandic Directorate of Immigration.
Health regulations
No special vaccination is required when traveling to Iceland. We advise EU-citizens to bring their Health Insurance Card along. Please contact your insurance company or your embassy for further information.
Emergency
In case of emergency, call 112 (24 hour service).
Medical centers and/or hospitals can be found in all bigger communities in Iceland.
For further issues call Reykjavík Police Headquarters during office hours, tel.: +354 569 9020.
Currency
The national currency in Iceland is the Icelandic Króna (=crown, ISK). You can exchange money in every bank (open Monday–Friday 9:15–16:00). However, the cheapest way is to withdraw money from local cash points/ATM's with your debit or credit card. Cash points are available in every community and at airports. Credit cards are accepted everywhere in Iceland.
Climate
Thanks to the Gulf Stream, Iceland has a relatively mild climate, though summers can be cooler than you are used to. The weather is very changeable in Iceland, so you should be prepared for everything. Further information, including weather forecasts for the whole country, can be accessed on the homepage of the Icelandic Meteorological Office.
Time Zone
Iceland is in Greenwich Mean Time (GMT) all year long.
Clothes and Equipment
Due to changing weather conditions, we recommend layering, so it's best to come equipped with t-shirts, jumpers, warm trousers and a light, wind- and waterproof raincoat. Strong and waterproof hiking boots with grip soles are essential. Please note that it is best to break in new shoes well before arrival to avoid blisters. We also recommend packing binoculars, bathing suits and sun glasses.
Swimming pools
Icelanders love going to the country's numerous outdoor swimming pools. At the swimming pool people of all ages meet to discuss the latest headlines. Don't forget to try the "Heiti pottur" – the hot tub.
Electricity
The electrical tension/voltage in Iceland is, just like in continental Europe, 230 V, 50 HZ AC. All plugs are in accordance.
Telephones
You can call every phone within the Icelandic telephone network directly. If you want to call an Icelandic number from abroad, use the country code 00354 followed by the seven digit number. If you want to call a number abroad from Iceland, dial 00 followed by the adequate country and city code and the individual number of the person you wish to speak to.
For security reasons, we strongly recommend you take a mobile phone with you when traveling to Iceland. In order to avoid high costs, you can purchase a prepaid card with an Icelandic phone number in any duty free shop or gas station.
Food and drinks
The Icelandic cuisine offers a variety of delicious specialities, e.g. fresh fish, lamb and typical Icelandic products such as skyr (a dairy product). Iceland also suits vegetarians. Special regulations apply for alcoholic beverages. You can only purchase them in special liquor stores run by the state ("Vínbúð"). Although beer has only been legal in Iceland since 1989, Icelandic breweries offer a wide variety of high standard brands of this popular drink.
Tips
Tipping is not expected in Iceland since it is generally already included in the bill.
Opening hours
General opening hours of stores and shops in June, July and August are between 9 am and 6 pm on weekdays. Some supermarkets are open 24 hours as well as on weekends.
Arrival at your accommodation
We recommend you call your hotel/guesthouse to let them know if you're planning on arriving late (after 6 pm).
Further information on climate, time, electricity and other topics can be found on the official homepage of Visit Iceland.
Don't forget our 24 hour service telephone for our customers traveling in Iceland: +354 864 0400. (Only for emergencies during the night.)
Getting to Iceland
---
WOW Air is Iceland's low cost airline. It was established in 2012, and has since been offering economical fares for flights to and from Iceland. The company now operates flights from Boston, Baltimore Washington, London, Dublin, Copenhagen and Billund. Please find more detailed information by following the link. For up-to-date flight fares and booking status get in touch with the team at Erlingsson Naturreisen.
---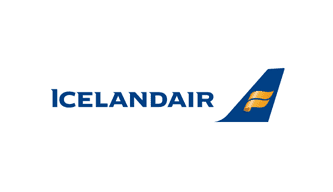 Icelandair, the Icelandic national carrier has over 70 years of flying experience. They offer direct flights from many major airports including London (LHR & LGW), Birmingham, Glasgow, Vancover, Toronto, New York, Washington D.C., Orlando Denver, Seattle, Copenhagen, Billund. For more detailed information on Icelandair routes please follow the link, alternatively for live flight fares and booking status requests, please contact the team at Erlingsson Naturreisen.
---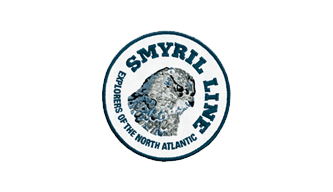 It is possible to travel to Iceland with the Smyril-Line ferry from Hirtshals in Denmark. You can either take your car or get a rental car when arriving in Seyðisfjörður in the east of Iceland. We are happy to give you a tour offer with individualized routes and accomodations.